Pictures from my 2005 Black Hills trip
"Dude, we're a long way from the truck."
These were all taken during my September 2005 backpacking trip in the Black Hills National Forest, Custer State Park, and Wind Cave National Park. They were all taken with my Minolta DiMAGE 7Hi camera, and have been resized down from their original size... I used about 4 gigabytes of flash memory during the trip.
You can click each thumbnail for a larger version.
One day we hiked to the top of Harney Peak, which is the highest point in North America East of the Rocky Mountains. It was a nice hike and we enjoyed looking at the scenery.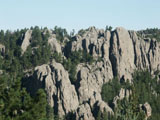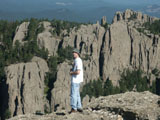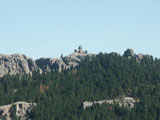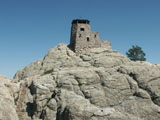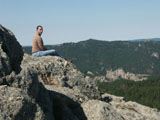 Another day we hiked across the Black Elk Wilderness to Mt. Rushmore, and although a million pictures have been taken of those four faces I like to think I got a few good (or at least unique) photos. My favorite is the last one that includes the new parking ramp monstrosity...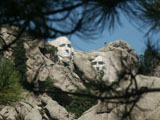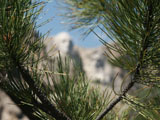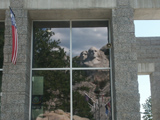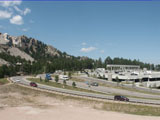 At some point in every Man Trips® we come to a point in which we realize that despite all of our otherwise good sense we've managed to hike/paddle/swim quite a bit further than our food/water/bodies allow for. This year several of those factors came to bear while we were hiking through the French Creek Natural Area in Custer State park. There really isn't much of a trail through this area so we spent most of the day blazing our own trail, crossing the stream many times in the process. The process was made easier in places where the stream was flowing underground, which was neat to see - the stream simply appeared to stop in places and appear almost out of nowhere in others.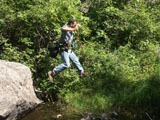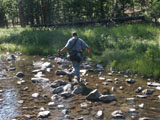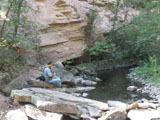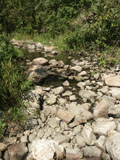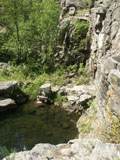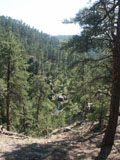 Toward the half-way point of our French Creek hike (as the sun was dipping low on the horizon) we came across a remote section of forest that burned in a fire a few years ago. From the looks of things Mother Nature is making a strong comeback.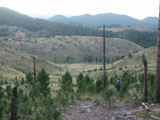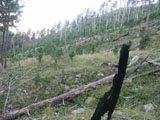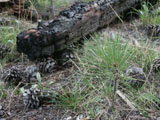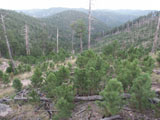 After our 18 hour long French Creek hike we took it easy the next day, visiting Roughlock Falls and blowing $20 each at a casino in Deadwood. Here's a few pictures of Roughlock Falls, a beefy guard told me I shouldn't be using my camera in the casino.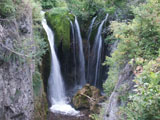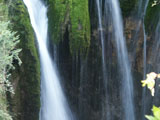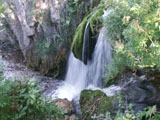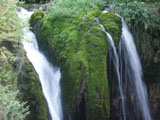 Here's a few miscellaneous bits of scenery along the trail, including one taken during a tour of Wind Cave.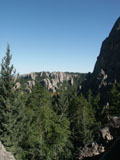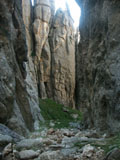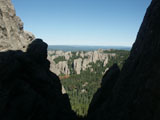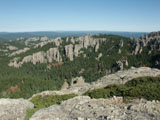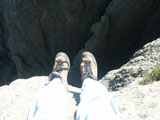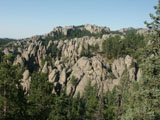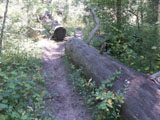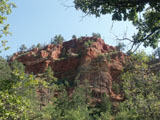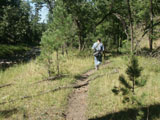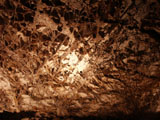 Speaking of trails, if you use them in the Black Elk Wilderness be sure to fill out a (free) permit and keep the receipt. As we found out the rangers do pay attention to such things, Warren claimed not to have his ID so I got the ticket... but it was just a warning this time.


Although we did an impressive amount of hiking this year Warren probably only did 65 percent of the total work, unlike other Man Trips® . That left him with more time for relaxing, reading, and enjoying a little cracker with his butter.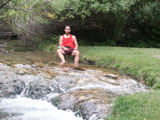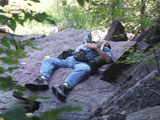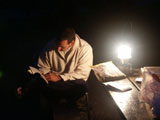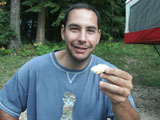 As usual we met a few locals, for the record they are:
A weasel on the top of Harney Peak, a prairie chicken, a prairie dog, a jack rabbit relaxing in the middle of its prairie dog alarm system, several white-tailed deer (one of whom has meet people before), several bison, and a chipmunk who was about to find out that those strange hard orange colored nuts melt in its mouth not in its hands.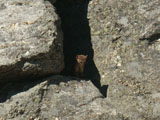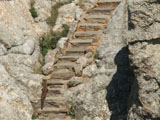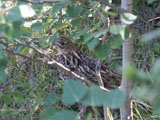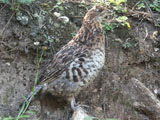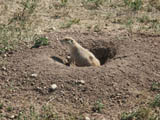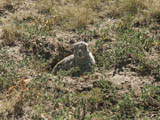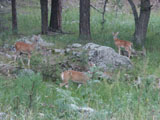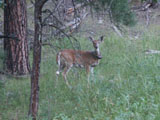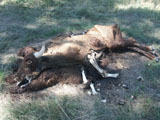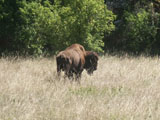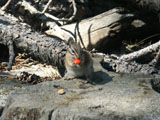 As always since I fancy myself as something of a photographer I had to take a few pictures of flowers and such along the way...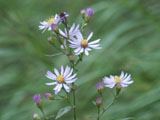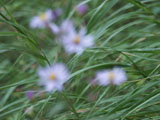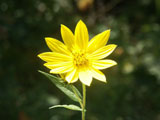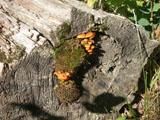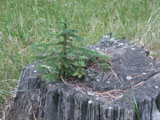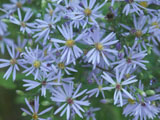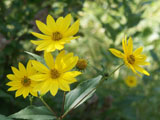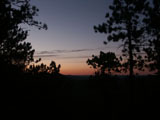 And finally a couple obligatory group shots. For the record I hiked my tripod 7 miles across the Black Elk Wilderness to Mt. Rushmore and 4 miles to the top of Harney Peak to take these photos...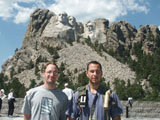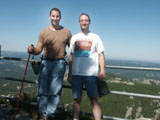 Last Updated: 11/21/2005 - Anthony Anderberg - ant@anderbergfamily.net